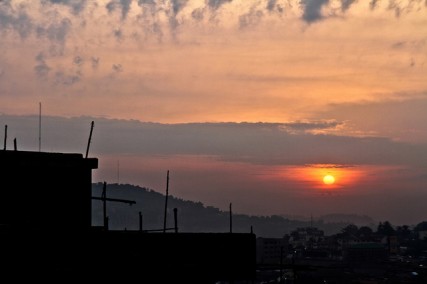 The Kabira Country Club is as exclusive as it's name sounds. It has an expansive, sparkling royal blue pool, a gym fancier than any I've been to and hosts a plethora of high-end political conferences. Sam and I go to Kabira every other day to go running and pretend like we're not in this country we've chosen to live in.
The treadmills have individual TV sets and yesterday, while running, I became engrossed in an Al Jazeera program about viral Internet videos. One commentator was explaining why we share certain videos and not others. He cited two main factors: high arousal emotion and social capital. The idea of social capital resonated with me. Through my over-articulated blog writing and my minimalist approach to social media, I manage my 'online self' obsessively.
Which is why I haven't written as many Starting Close In posts as I would have liked. I am not candid.
The truth is, ever since I arrived in Uganda, I've been in a bad mood. When Sam is around, I take this out on him. When he's not, I spend a lot of time on my own, not writing, not emailing, not reading.
I have managed to organise a household worth of furniture to be constructed and delivered. I have pledged investment in a friend's bar initiative and spent numerous hours sourcing paint, sweeping dust and tinkering with logo designs. I have started an online Masters in International Relations and withdrawn from 2 of the 4 units, effectively becoming a part-time student. I have organized weekly volunteering at a 'media for development' NGO. And, as a 'freelance journalist', have recorded one radio interview with the producer of a clean-water filter but not yet edited it.
I have a generally 'at sea' feeling. Perhaps this is what transition always feels like. Perhaps like childbirth, the difficulty of navigating a new place is disremembered by the happy hormones of the adventure of new life. I've had so many periods of transitions throughout my twenties that I'm impressed these hormones work so well.
My oceanic feeling has somewhat been anchored by moving into our new apartment. So, here, now, I will share some photos of our new space to celebrate the future feeling of home and to connect you to our life here
[fsg_gallery id="5″]